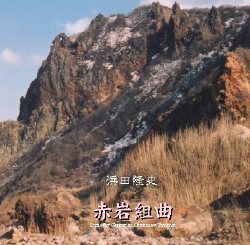 price : $18
PayPay is available.
This price is for only oversea customers.
Free postage for the whole world.
1. Rock Climber
2. Watara (= Big Rock by the Sea in Ainu)
3. Pon Akaiwa (= Small Akaiwa in Ainu)
4. Blue Tower of Rock
5. "Pool-sea"
6. Song for Yamanaka
7. Carse Nay (= Sounding River in Ainu)
8. Pirka Wakka (= Clean Water in Ainu)
9. Hure Cis (= Red Rock or Crag in Ainu)
10. Kawahira (< Kapassirar = Flat Rock in Ainu)
11. Gathering Shellfishes
12. Lonesome Road
13. Memories
14. Menas Tomari (= East Wind Harborage in Ainu)

Totally concept album, including 14 tunes, all HAMADA's original guitar solos.
This work is dedicated for Akaiwa (Red Rock) in Otaru city, Hokkaido, Japan.
Not purely ragtime, but great guitar solo compositions based on rags, blues,
latin music, terra verde, classic, Japanese folk song etc.